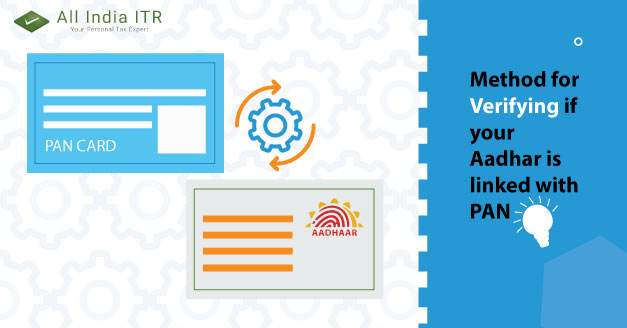 The Income Tax Department has notified that, "Every person who has been allotted PAN as on July 1, 2017, and who in accordance with the provisions of sub-section (2) of section 139AA is required to intimate his Aadhaar number, shall intimate his Aadhaar number to the principal director general of income tax (systems) or DGIT (systems)." The Department has also entrusted principal DGIT (systems) or DGIT (systems) with specifying formats and standards along with procedure for verification of documents filed with PAN application or intimation of Aadhaar number.
The govt. has intimated 31st August 2017 to be the last day by which such linking is to be done.  The main purpose of linking Aadhaar with PAN is to curb the tax evasion through the use of multiple PAN cards by the taxpayers. With Aadhar Card linked with the PAN, it would not be possible to use more than one PAN. Also, the Modi Government has been emphasising on the linkage of Aadhaar with various Accounts and PAN as various social welfares schemes etc. has been directly linked with Aadhar and hence to avail the benefits of such welfare schemes, it is mandatory to quote Aadhar.
Further, the amended Income Tax Rule notifies that the govt. has made it compulsory to quote the 12- Digit Biometric Aadhar/Enrolment ID when applying for a PAN.
There are few methods to verify if your Aadhar is linked with PAN. These could be understood as follows;
METHOD 1: WITHOUT LOGGING INTO THE INCOME TAX PORTAL
Go to the official income tax website.
Click on "Link Aadhaar" Option.
A window will appear asking your details, viz, your PAN, your Aadhaar Number, your name as per Aadhaar.
Make sure to make no spelling mistakes while mentioning your name.
Enter the Captcha Code and Submit.
After verification from UIDAI, the linking will be confirmed. In case of any slight discrepancy in the spelling of the names mentioned in Aadhaar and PAN, an OTP will be sent on your registered mobile no. and after verification through OTP, your linking will be confirmed.
One can verify the linkage of his/her Aadhaar and PAN, by following the above-mentioned process. In case they are already linked then on submitting the details, the window will appear stating "Your PAN is already linked to the given Aadhaar Number".  If there is a mismatch with the details provided in the PAN and Aadhaar, then linking would not be possible and you would have to get your Aadhaar updated.
METHOD 2: BY LOGGING INTO THE INCOME TAX PORTAL
Log into the official website of income tax department.
Under the "Profile Settings" tab, go to "Link Aadhaar" option.
Enter all the required details as mentioned above and click on Link Aadhar.
A pop up message will appear to inform you that your Aadhaar has been successfully linked with your PAN once all the information is validated.
METHOD 3: THROUGH SMS
Now the linking of Aadhaar with PAN can also be done through SMS. The Income Tax Department has urged the taxpayers to use their SMS- based facility for linking the Aadhaar with PAN.
It can be done by sending an SMS through your registered mobile number in a prescribed format as follows;
UIDPAN<SPACE><12-digit Aadhaar><Space><10-digit PAN>
Example: UIDPAN 123456789123 AKPLM2124M
The above SMS must be sent to either 567678 or 56161.
In case, you have not linked your Aadhaar with your PAN, it is advisable to link them before 31st August 2017 to avoid any implications. One of the major benefit of linking these two is that there would be no need to furnish your Income Tax Acknowledgment to the Department once you have e-verified your return using the Aadhaar OTP.
Please contact us on this toll free number to know more 18001025807 or support@allindiaitr.com.