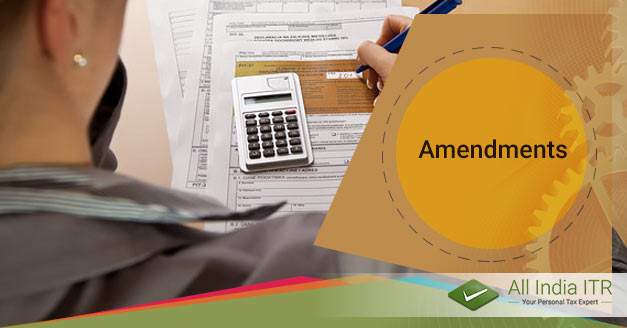 To simplify tax filing process and to reduce the burden of taxation on the taxpayer, the Central Board of Direct Taxes (CBDT) has made several changes in the tax filing process of the year 2017. The changes which will be applicable from Financial Year 2016-17 are as follows:
The Government has cut tax rate by half, from 10% to 5% for those employees who fall in the yearly income group of Rs. 2.5 Lakhs to Rs. 5 Lakhs. Through this, employees will have more money in their hand and will be liable to save more for future. Employees can save tax amount of up to Rs. 12,500. For people whose taxable income is above Rs. 1 Crore, tax saving for them amounts to Rs. 14, 806 per year. While for individuals whose taxable income is between Rs. 5 Lakhs to Rs. 50 Lakhs, tax saving for them amounts to Rs. 12,900.
Disclosure and Linking Aadhar Number
From 1st July 2017 onwards, it has become mandatory to quote one's Aadhar Number in the Income Tax Return (ITR). But in case if an individual does not have Aadhar Number and he or she has filed an application for the same, then the 28-digit enrolment number is required to be quoted while filing Income Tax Return (ITR). In addition to this, they are supposed to link Aadhar with Permanent Account Number (PAN) as it is a precondition for filing Income Tax Return (ITR). As of 1st July 2017, individuals who have been allotted Permanent Account Number are eligible to obtain Aadhar number and are required to intimate their Aadhar Number to Income Tax Authorities for linking Permanent Account Number (PAN) with Aadhar.
If an individual has deposited cash with a value of Rs. 2,00,000 or more of the old demonetized currency notes in any of the bank account between 9th November 2016 to 30th December 2016, the same must be reported by the individual at the time of filing ITR. This is applicable to all Income Tax Return Forms, including ITR-1 (Sahaj).
Change in the Number of ITR Forms
For making I-T filing easier, the Income Tax Department has changed a couple of things in the Income Tax Return Forms. Now, following forms will be valid for filing Income Tax Return for the assessment year 2017-18 which is relevant to the financial year 2016-17:
ITR-1 (Sahaj): For individuals whose source of income is from salaries, house property and other sources such as income earned from interest and whose total income is less than Rs. 50 Lakhs.
ITR-2: This ITR is to be filed by individuals and Hindu Undivided Families (HUF's) who are not associated with any business or profession. Since the Financial year 2015-16, the ITR has merged with Form 2/2A and 3.
ITR-3: This ITR is to be filed by those individuals who have an Income from proprietary business or any other profession. This form has been renumbered and has replaced ITR-4.
ITR-4 (Sugam): This is only for presumptive income from business and profession. This form has replaced ITR 4S which was used in the financial year 2015-16.
The rest of the ITR forms remain the same.
Filing of ITR has been made Mandatory even if Long Term Capital Gains are Exempted
In case the aggregate income of an individual after exempting long term capital gains is more than the basic exemption limit i.e. Rs. 2,50,000 the individual is liable to file an ITR as per the amendment made in the last provision of section 139 (1) of the Income Tax Act, 1961.
It means if the taxable income is less than the basic exemption limit but because of exempting Long Term Capital Gains (LTCG), the total amount exceeds Rs. 2,50,000, then the filing of returns become mandatory. If Long Term Capital Gain is arising on the transfer of equity share or units of business trust then it is not applicable for taxation, on satisfying the following conditions;
The transaction of sale of equity shares or units of an equity oriented fund or units of a business trust is liable to securities transaction tax.
Such shares should be long term capital asset as defined in the IT Act, 1961.
The transfer should have taken place on (or) after 110-2004.
Increase in Rebate
Earlier the rebate provided was Rs. 5,000. But now, as per Section 87A, Income Tax Act allows a rebate of Rs. 5,000 for individuals whose total income (after deduction) is less than Rs. 5,00,000. However, if the tax liability is less than Rs. 5,000 then the amount of rebate will be restricted to the liability of tax.
Exemption from Long Term Capital Gains (LTCG) for Investments in Startups
The benefits of investing in a start-up can be reaped under Section 54GB. This section states that if an Individual has earned Long Term Capital Gains (LTCG) by selling house or land and investing that amount in equity shares of a start-up of a business, then such gain or income will not be taxed. These kinds of investment in shares should be made before filing ITR and return should be filed before the due date.
Please contact us on this toll free number to know more 18001025807 or click on Online Income Tax Return E-filing solution | All India ITR.